I had been thinking about weddings for a long time before we actually got engaged, but when Will proposed I didn't have much of a picture in my head except that I knew I wanted it to be formal-ish. Err, formal-ish for the Panhandle. See, to most people around here "dressing up" means starching your Levis and wearing your "good" boots, and though I love the people here and our culture, I really wanted it to be more elegant because it's always been my style.
I went back and forth, looking at tons of weddings on the internet and getting ideas. I knew pretty quickly I wanted a black and white wedding (totally beat Kim K on that one...), but other than that I was undecided. For a while I was thinking black, white, and gold would look really elegant, but I soon realized that was just not my cup of tea. We also alwasy assumed we would get married at the church where we more-or-less grew up, but when we heard the price we decided to look elsewhere. Though the church held a lot of special memories for us, it wasn't "home" anymore and it really is just an ugly place to get married. The reception would have been in a gym, the sanctuary has red carpet, and I simply couldn't see the big picture in my head.
Also, right after we got engaged we set a tentative date for the following January (Janurary 18th, I think) because I wanted to do something "different" and get married in the winter. In mid-February we decided to screw that and changed our date to the summer. We ended up getting married at Will's parents' church (which actually happened to be the church I attended as a little girl). They had blue carpet, but everything else was nice. The room where we got married is actually meant to hold over 1,000 people, but they were able to turn off the lights on the sides of the room so it didn't feel like an empty cavernous room during the ceremony.
As for decorations and the "theme" I eventually decided on black and white, with accents of grey/silver and light pink (but not too much pink- a pink wedding reminds me prom). We paid for almost all the wedding ourselves, and therefore had a tiny budget. It was stressful to try and stick to at times, but it did mean that we had to do everything ourselves. Honestly, the memories of working on stuff for our wedding is almost as good as my memories of the actual wedding itself. We DIY'ed everything, which meant our wedding was truly a labor of love. Will was awesome at supporting my vision and trusting my process.
For the tables at the reception, we scoured thrift stores for candle sticks and other "usable" things that we eventually spray-painted either black or off-white. We bought a bunch of fabric from JoAnn's in white, baby pink and grey with very subtle patterns to put over the black table cloths the church provided. We used small boxes under those squares to break up the height and make the tables a little more interesting. My mom spent hours and hours making little topiary-ish things out of pink and white crepe paper hot-glued into rossettes on round and square pieces of foam. We also got several tall candle sticks from places like TJ Maxx and Ross, and spray painted those to match. We had bought a ton of silver Christmas balls for 50% off the previous Christmas (in anticipation for a wedding and/or our own Christmas tree the next year), so we used those to scatter around the tables. Each table scape was completely unique.
Enough talking, here are the pictures of setting up the wedding. We had an AMAZING group of friends and family help us out all day on Friday to set up everything. There is no way this could have happened without them, and I am forever grateful for their support.
I was not a bride-zilla, but I was a master Type-A bride. A few weeks before the wedding I got our all our big decorations for the tables and grouped them by table so I could make sure I liked each table scape. The Christmas balls didn't go on top of candlesticks like you see in this picture- that just so I could make sure each table had enough. Each table was wrapped and put into individual boxes to make it easier to unpack at the church and to ensure every table ended up decorated the way I wanted, even if I coudn't be there.
We also got a ton of little mirrors and candles from the Dollar Tree. One of my big "musts" for the wedding was that it have a ton of candlelight.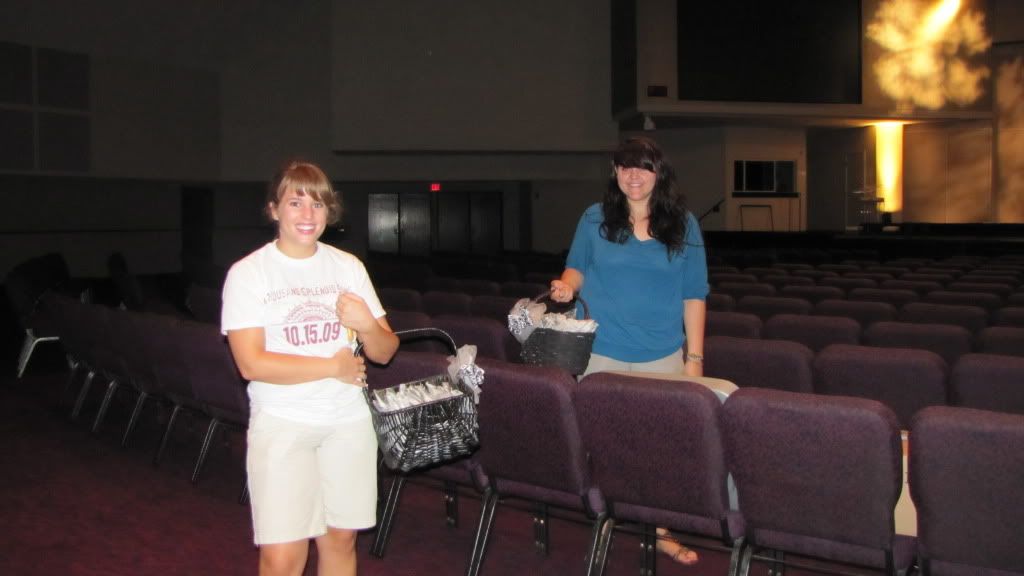 My BFF Brandy helped on Friday.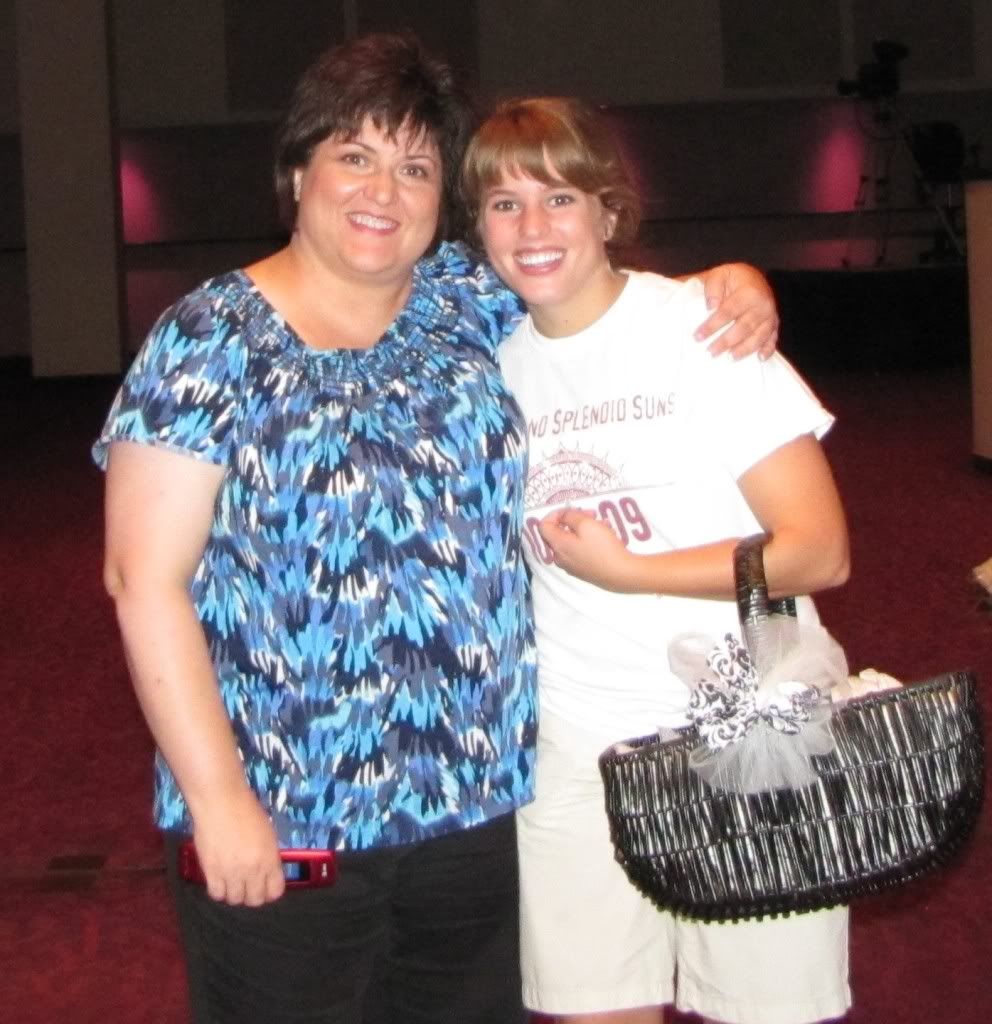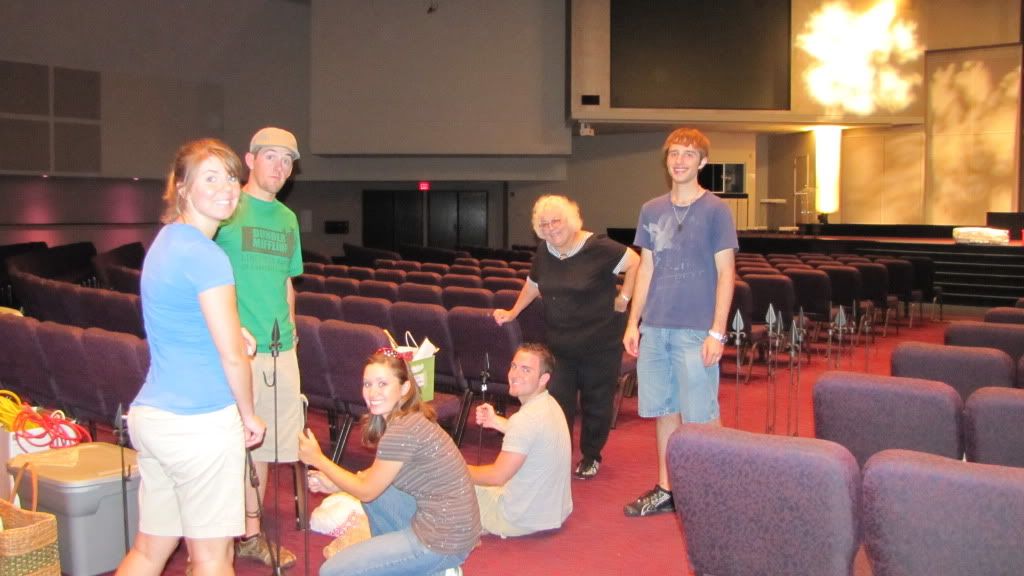 AWESOME friends and family who put up with my crazy requests.
I think my cousins worked all day on getting the aisle *just right*. Seriously, it was an all day job, but it was perfect and beautiful and everythign I had pictured in my head. I told both of them that when they get married, I will be their slave for anything they need.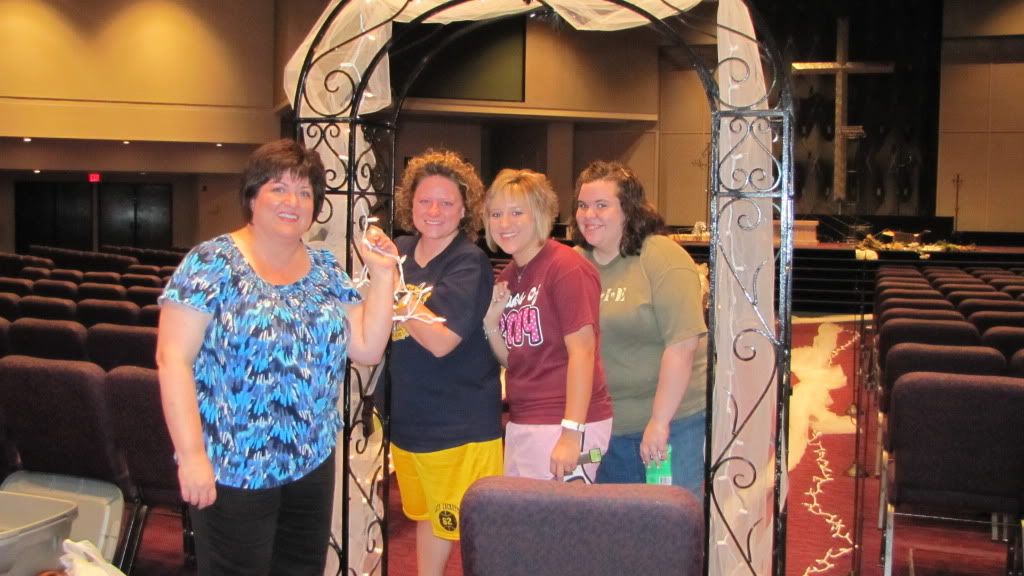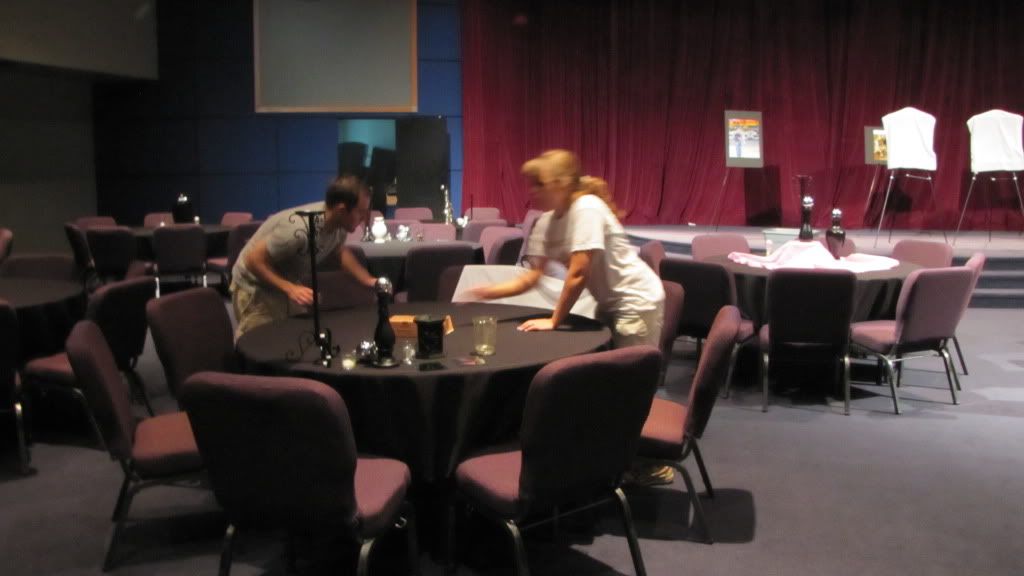 This is a terribly blurry photo, but you can see the process of setting up each table. The one behind us is a little more finished than the one we were working on. On the stage behind us where we had our first dance, you can see that we mounted a few of our favorite engagement photos on black foam core. The pictures behind the towels were some of my bridal portraits that we eventually moved to the back of the room with the groom's table.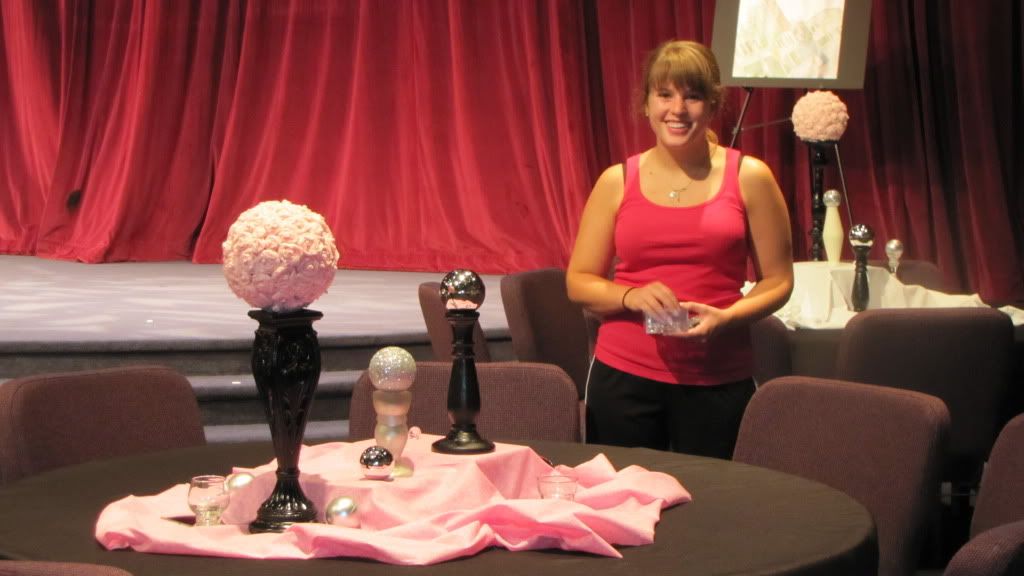 This was the morning of the wedding. I was scattering those big crystal things around all the tables for a finishing touch.
Another shot of the pretty-much finished room. For the reception they turned the lights way down low so the ambiance was much nicer than the photos would suggest.
I wish I had a few more photos from that Friday. Will's parents served all our "workers" a good breakfast, and we hit the ground running from there. Most of us didn't stop until after the rehearsal dinner that night, and a few of us (my mom, my cousins and me) worked on a few details even after that. I made some snickerdoodle cookies for our cookie bar and my mom made the flower girl basket "cuter" as I vaguely asked her to do last minute.
Next post is the actual wedding!