Will and I both love to cook. And we both love to eat, but that's a different story. The kitchen in our first apartment was teeny tiny (our oven was a little half-oven!), but we loved it anyway. A fun, functional, and inviting kitchen was definitely on our must-have list.
Someday, we'd like to replace the Formica counters, add some subway tile backsplash, and replace the sink (among a few other things), but for now we are so happy with this kitchen. It was the first room we painted, and we went all-out for the color!
Here's what it looked like when we moved in
White. White everywhere. (Everywhere in the house, for that matter.) However, as silly as this sounds, the cabinets are one of the reasons why I knew it was meant to be our house- I always wanted white cabinets. Brown cabinets can be beautiful, but they are not our style at all. I would have painted the cabinets in any house we moved into, even if they were brand-new. But the white cabinets, white counter tops and backsplash, white walls, and some white appliances were a little much.
Here we are on moving day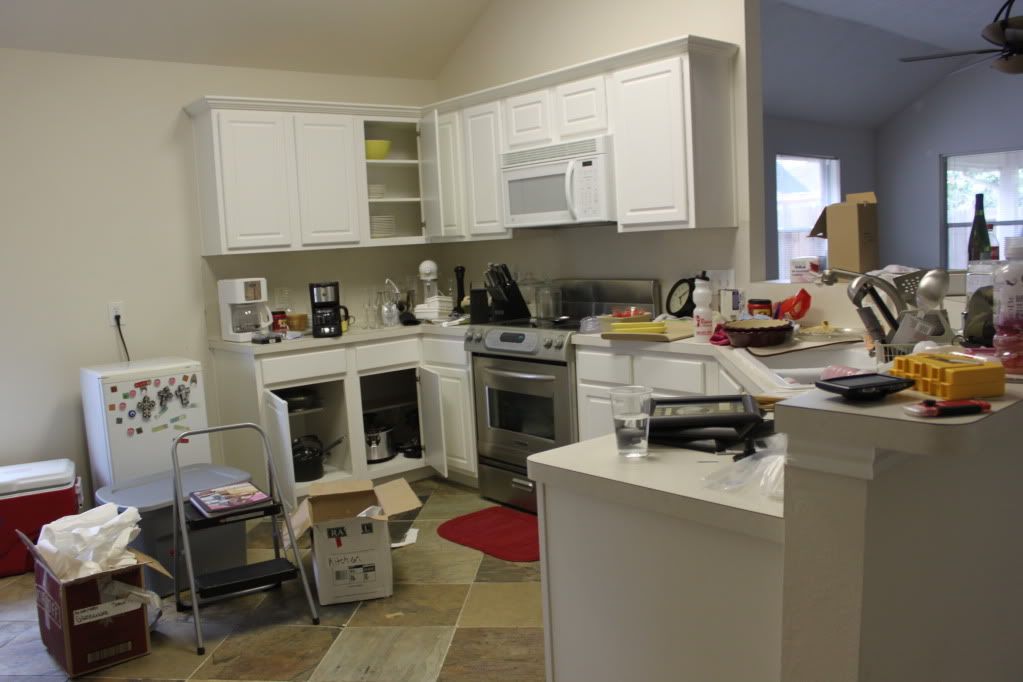 Like the mini fridge we used for a few days? :)
One of our favorite things about unpacking was re-discovering all the wedding gifts we never got to use. We had one double-wide cabinet in our apartment for all our cookware and such, so most of our wedding presents were opened and then promptly put back into storage since we didn't have room. Don't worry, we are getting full use of them now!
I knew I wanted a green color, but I was a little undecided on exactly which one. Eventually I narrowed it down to two colors and brought home the little tester pots. I would highly recommend you do this if you're debating a color. It helps so much seeing how it looks in the space, and is totally worth the $3-$4. These can also be great for when you need to do a quick paint touch-up in the room later without having to bring out the whole gallon of paint.
Not sure where my other close-up pictures of the two colors went, but you can see in this picture who I painted a few different areas to see the colors in different light and next to the cabinets.
Like a lot of our rooms, it was looking a little scary after the first coat.
We also bought a new refrigerator and microwave. We're hoping to get a new dishwasher within the year to match the stainless steel, but that wasn't a priority since it blends in (kinda) with the cabinets. We're still working on selling the old microwave on Craig's List, since it still works perfectly.
I added some cafe-style curtains to the window from Target that are great for privacy but still let in plenty of light.
I hung a few things on this small wall- a clock from Ikea, a silverware print from Hobby Lobby, and a custom chalk board that a friend's mom made for our wedding present (she made it out of an old cabinet door!).
And I propped a few things up on top of the cabinets. Most of these things were used in our wedding, so they're a little hard to let go of. I still can't decide if it feels too cluttered, but I also think if I took some of it down it would feel too bare. I'm going to live with it for a little while before I make any changes, though.
While I was there this summer I worked on a little art project to bring some life to that back wall. I have a lot of inspiration pinned and I debated several different sayings. The one I liked the most was "Love God, love people" but ultimately I decided on "Oh, how He love us." I'm not quite happy with the way it turned out (I should have done the whole thing in cursive), but I am going to go back and try to straighten out some of the lines that are WAY crooked.
If I can't salvage the black letters, I'll either paint over the entire thing again or cover it with some pretty fabric. It's a little disapointing, but I guess you can't win them all :)
It's hard to see the silver letters in the sunlight, but I think the scale of the canvas works well on the wall.
New microwave and rug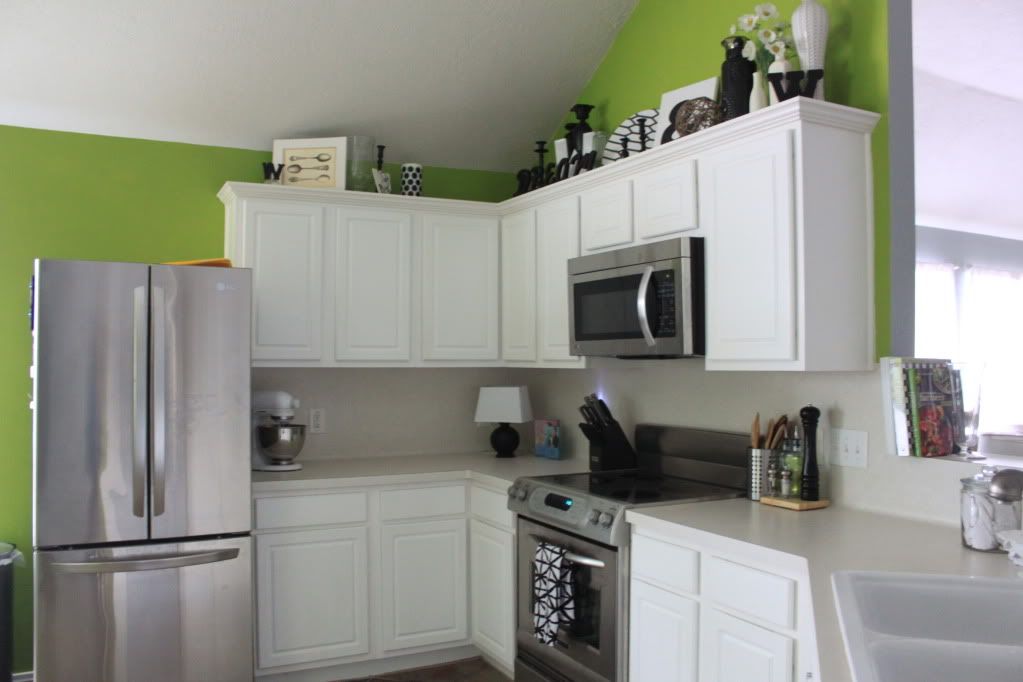 I spy more picture frames that need pictures!
I'm still having a little struggle with styling the counters. Again, I'm afraid of clutter but I think they also look weirdly bare. I think I'm going to look for a bigger cutting board to put under the salt and pepper on the right. I might add my canisters of flour and sugar to go go beside the Kitchen Aid.
That's our kitchen as of now! We had a friend come over to check on the dogs once while we were out of town, and apparently commented that "it's so...green." Haha, yeah it is. It's our unexpected dose of happiness. We're really taking this "don't be afraid of color" thing and running with it, although I suspect we'll tame it down quite a bit for the guest rooms and the second bathroom.
-------------------------------------------------------
What color is your kitchen? Do you struggle with finding a look that not too cluttered, but still looks lived-in?
Have you had an "Pinterest fails?" Did you give up all together or did you try to fix it?