*** All photos in this post were taken with my phone. Please forgive the crapiness, and I promise to never forget my camera at home again!***
I could not wait to have an office/craft room where I could put all my craft stuff and spread out as much as I want. Thankfully, our house has four bedrooms so there will be an office/craft room until we have three kids. And then it will be time to move again, so I'm not too worried :)
The office started with bland white walls like the rest of the house was when we moved in. I'm pretty positive this was the past owner's office too, because there were some cord hiders attached to the wall, and the walls in this room were a lot more beaten up than in other rooms. The paint was flat, so there was pretty much no hope for cleaning them up without painting.
This is how
we
I left it in March.
Unfortunately, it kind of became a dumping ground while I was there and working on other projects. Will also re-arranged the furniture. So by the time we were ready to tackle that room at the end of my stay, it looked more like this: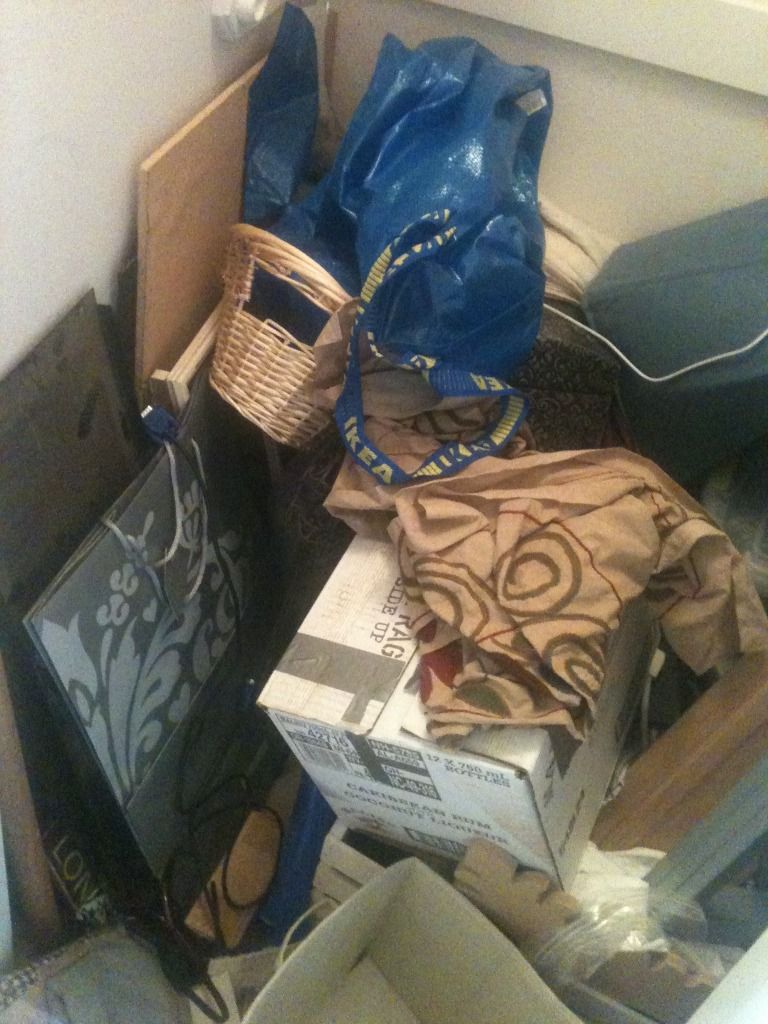 Closet
Yeah, it was pretty bad.
First of all, we got the lovely Expedit from Ikea- I LOVE this thing! Way back when we made our first trip to Ikea Will really wanted to get it, but I wasn't sold. Since then I've realized how much we need storage for our office and craft supplies, and this was the best way to do it.
So we put it together and then cleared the room to paint.
For paint, I had a really hard time decided what color to go with. I'm all about embracing color in our house, so I knew I wanted something fun with lots of energy. It is a craft room, after all. :)
The problem was that I have some decor that we've accumulated from gifts and various other places that don't really fit in with the rest of our house. Most of it was from our international travels or had an international-theme, so I decided we would do the room with a travel- theme. All of our decor and furniture (with the exception of the living room furniture, which isn't going anywhere for a while) is based off of black and white. There is no brown anywhere. I like brown, and I really like the way some people decorate with it (my mom, SIL and MIL do AWESOME jobs with it!), but it just isn't for us. Some people can mix brown and black furniture and decor and it looks great, but I just cannot figure out how to do it while looking good and being true to our style. I thought using some of that brown decor would be great in our office since it was a little cut off from the rest of the house (and therefore I wouldn't feel like it clashed).
I got a TON of color swatches from Home Depot and Lowes and spread them all out on the living room floor one night. I narrowed down my choices and asked Will to choose his top five. The one color he liked that I agreed with was a saffron-yellow color. I liked it, but when I put it up to the decor I wanted to use in there it just seemed to clash.
The more I thought about it (and talked to my friend Brandy on the phone), I decided it wasn't right to try and make a room fit with an idea that ultimately I don't like. It's just not our style, and I knew I would never be totally happy with it.
So I went back to the color swatches and pulled a set that came from Olympic from Lowes (I so wish I had taken a picture of the little booklet that come with it for inspiration). If you need some inspiration for a room, I highly recommend going to Lowes and checking out these books!
**** UPDATE*** I found the website where you can look through these color inspirations
here
.
This
is the one we used for the office.
Anyway, the collection I liked the best had orange, gray, blue, green, yellow, and a white. I realize these are terrible descriptions without being able to actually see the colors, but basically they were fun, bold and perfect for a sophisticated craft room/office.
Will finally agreed to paint two walls orange if we could paint the other two gray. Fine by me, I didn't want the whole room orange, either!
Here's before:
And here's after: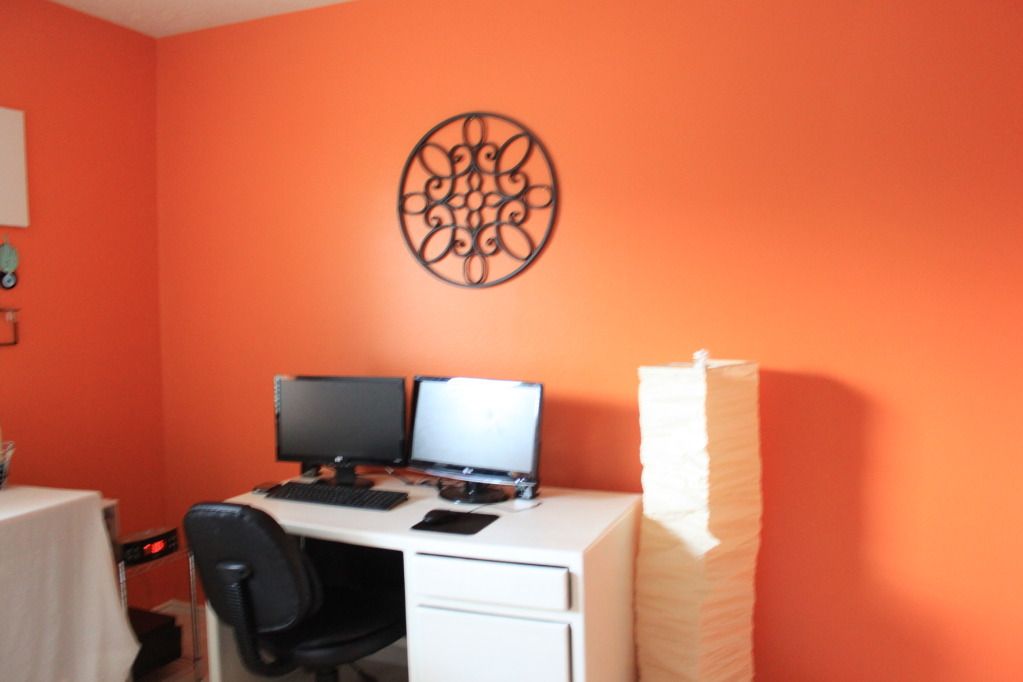 Sorry it's so blurry!
The orange is called Indiana Clay and the gray is called Silver Spoon, both by Olympic (but we color match all our paint to Behr's non-VOC paint). We use a satin finish for all our rooms except the kitchen and bathrooms, which are semi-gloss.
We painted the desk white and threw a white sheet over the table my mom gave me until we can buy/build a new desk for me.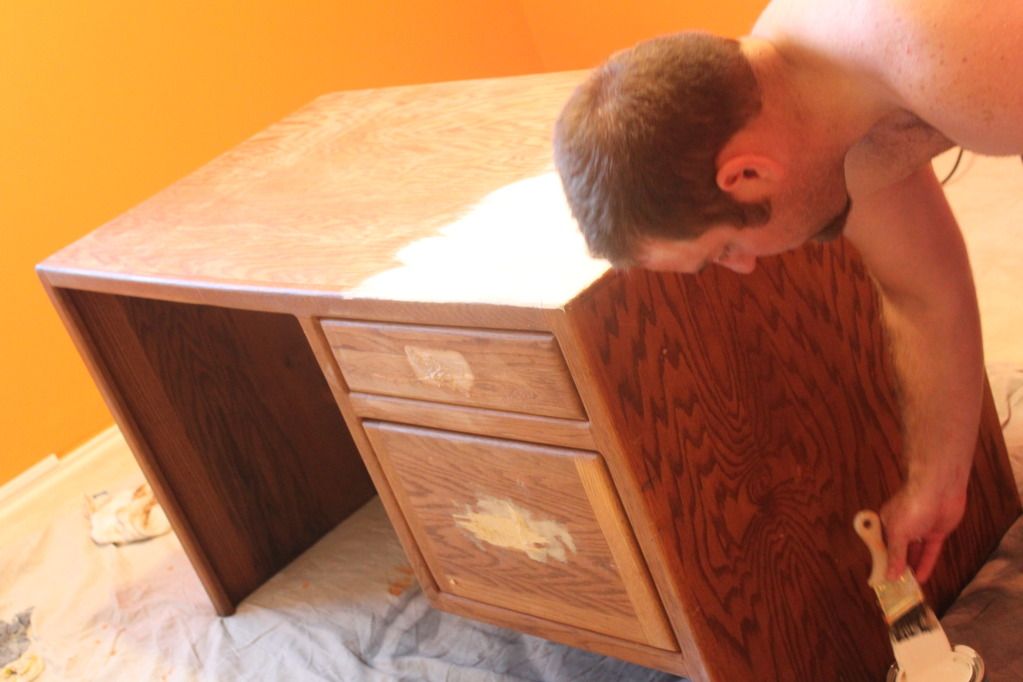 It looks so much better now!
To the right of my tables is a small wire shelf that holds the drawers for pens and paperclips and our Ipod dock. That large picture above the table is of my host girl and me in Turkey. The large bulletin board I covered in white fabric since it looked like this:
I still need to add a border to it so it looks more finished.
The little nook you can see there to the left has a sink and mirror (the "Jill" part of our kinda-Jack-and-Jill bathroom. We keep Freska's litter box and food in there since we don't really use it.
So, that's our office as of now. We definitely realize it's not everyone's cup of tea, but we love the energy and un-expectedness of it! It still needs a lot of work (I think I want Will to build me some shelves above my table), but we are so happy we decided to go with such a bold color. The best part is it only took an evening to paint since the ceilings are normal height. Every other room we've painted so far either has vaulted or high ceilings that require a lot more paint and work.
Within the next few years we'll have to repaint when it becomes a nursery (our bedroom is right next to it), so it's not like it'll stay this way forever. Who knows, we might choose a much calmer color the next time we paint.
--------------------------------------
What do you think?
Have you chosen a "risky" color for a room in your house? Did you end up loving or hating it?