Happy Thursday, everyone!
Like many young people, Will and I have felt like we've been in a constant state of flux over the past few years. Moving several times, working internships and multiple jobs, waiting to see if he got hired, buying a house, and generally just waiting on different things have had us dreaming about the future.
We try really hard to treasure and enjoy every phase of life, but let's be real- as fun and life-changing as college is, it can be a difficult time as well. This is not me complaining, but rather explaining where we've been for a while. When we found out Will was offered his dream job, that set a lot of things into motion and gave our future a lot of the clarity it was lacking. We've found our dream home, another big item to mark off the 'list.' And life has been good.
But there were still some rough things, like living 11 hours apart for 4 months. We've done this countless times since we started dating while Will was working internships, but it still sucks just as much every time. I think this time has perhaps been the hardest because we feel like we are
so close
to finally getting to live our 'adult' lives. We loved college, but we were never the kids who partied hard or joined a lot of student orgs. We had our few things we did to stay involved on campus, but we have been mainly focused on our studies.
I've also been waiting to hear about my student teaching assignment. While this was never an "if it happens" case, it is a little nerve-wracking to wait until you're assigned your school district, supervising teacher, and classes.
So these last two weeks have been really good. I got my school district assignment (it was my first choice!) and I found out I have an orientation on August 22nd. That was great, because I was hoping to go visit Will the week before classes started anyway. But that was the other issue- even though I'm student teaching this fall the first official day is September 17th, and I have another class on campus in Canyon that I was supposed to attend between August 27th and then. We will hopefully (fingers crossed) be closing on our house on September 15th, so that put A LOT of traveling back and forth on my radar. In addition, there are four dates throughout the semester that I was supposed to be in Canyon for (which meant I would have spent at least $1200 in plane tickets going back and forth).
I met with one of my advisors earlier this week and got some great news: once I go down to Houston for my orientation on August 22nd, I do not have to come back up here. He's working out my class with me so I can do all of my assignments online, and I have been excused from at least two of the other dates I was supposed to come back up here. Music to my ears!
The next day I got my supervising teacher and class assignments. I'll be working at a high school very close to our house (relatively speaking, of course), and I'll have four senior English classes and two sophomore classes. I am so excited about this because it should give me a really good range of students to work with (and therefor gain experience).
All that, and Will is currently driving up here to spend the weekend with me! The main purpose of the trip is to bring me my car, but he was planning on coming up here anyway during July so this is killing two birds with one stone. After he leaves we'll only have three more weeks before I can move down there for good. I am a little excited :)
In other general news, I've been hanging out with my friend Brandy quite a bit. We've had several girls' nights where's she made homemade pizza. I made
this
AWESOME white Texas sheet cake (it was SO GOOD!) last week to go with the pizza.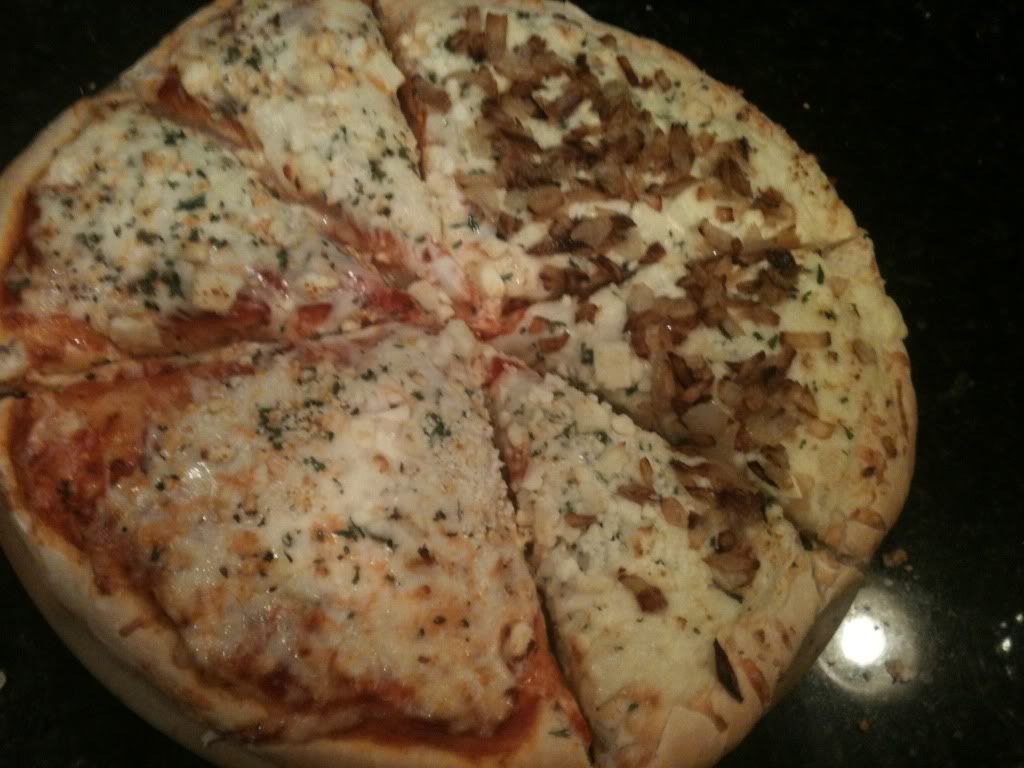 Caramelized onions are the best topping ever
The other night we got a sno cone from a place that's been open in Canyon for 17 years. They've had the same owner for 12 of those years, and she still remembers me from when I played soccer with her son back in elementary school.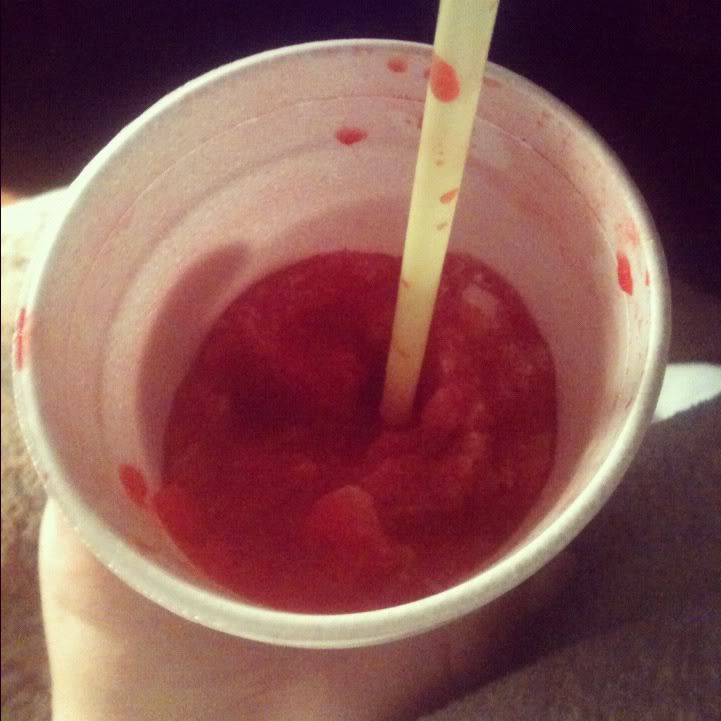 strawberry cheesecake with cream FTW!
Also, since I learned I have three weeks until moving day and I'll only have one car ride to get the rest of my stuff down there instead of two, AND I'll be sharing the car with my brother's stuff since I'm dropping him off at college, I've decided on a little self-imposed challenge called Use It or Move It. Most people have probably gone through this at some point- when you look at all your stuff and realize there is no way you are going to move all that or it won't fit in your car/moving device.
I kicked off Operation Use It or Move it last night by digging through my bathroom cabinets and pulling out the stuff that has just enough that you can't throw it away, but not enough to warrant moving it across the state. I corralled it all in a small basket on top of the counter so I would see it and remember to use it.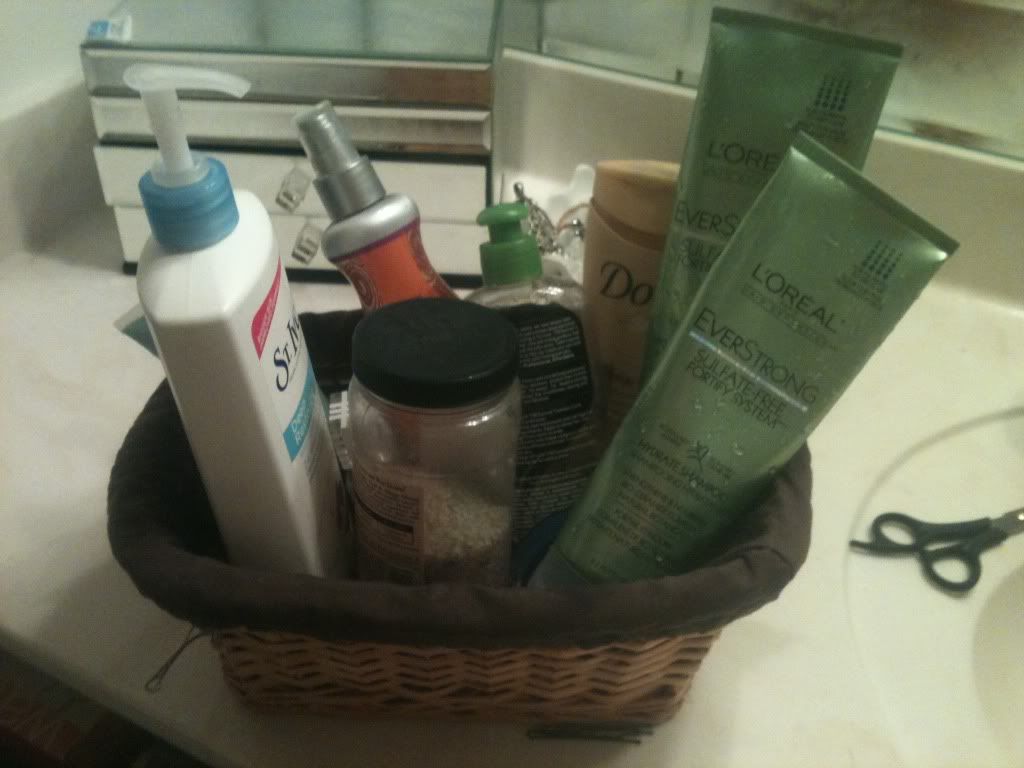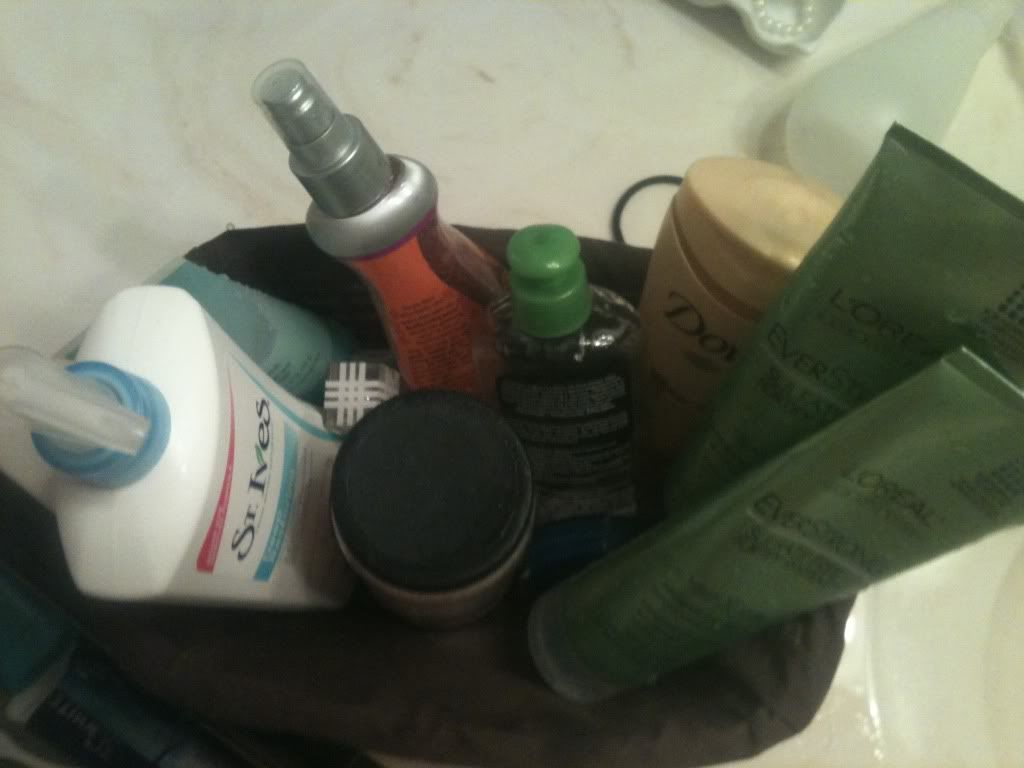 There's some lotion, spray gel, gel, bath salts, face scrub, perfume, face powder, shampoo and conditioner in there.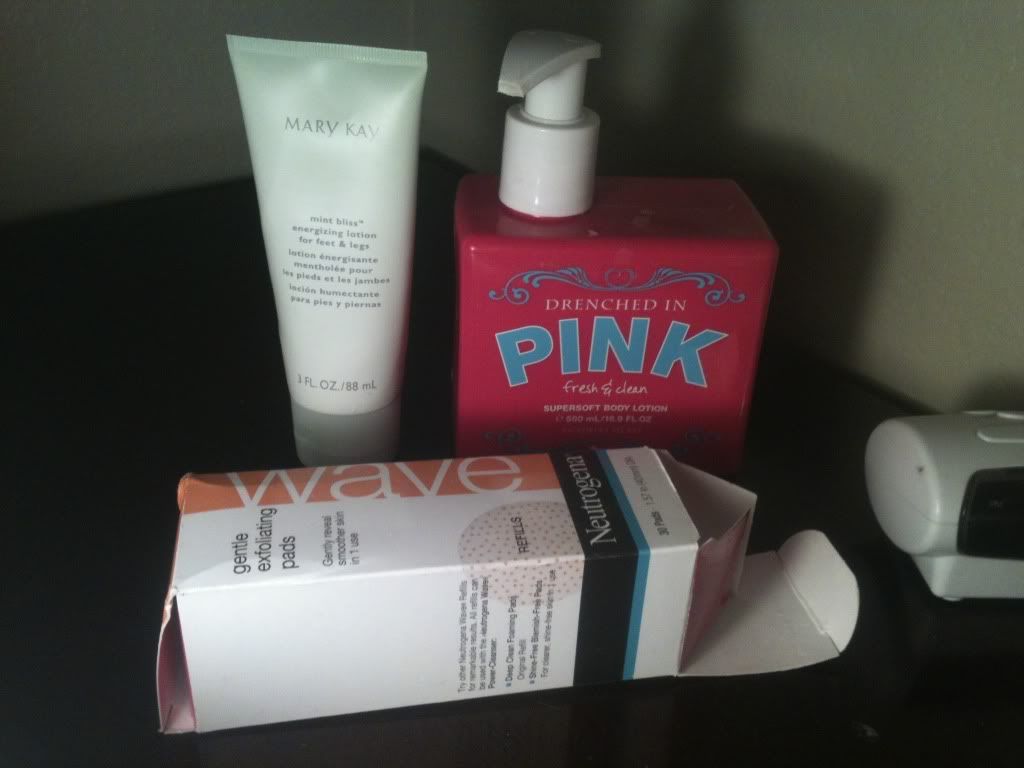 A few more things I found
Why do women buy nice things for themselves and then "save it for a special day?" Every day is special- use the dang expensive foot lotion! At least I will feel a little pampered over the next few weeks.
That's about all that's new around these parts. I'll be back in a few days with some more house updates.
Have a great day!
------------------------------------------------------
What are some things you "save" for yourself?
Has there ever been a time in your life that you felt like you were waiting for something to happen so you could move on?