One of the things I was most excited about in our new house is the master bathroom. It's got double sinks and a private "watercloset" as I like to call it, which is really nice when you're sharing a bathroom with a boy who is messy (around the sink, that is). It also has a separate shower and tub, which is awesome for the evenings when I take a 1.5 hour bath and Will just wants a quick shower. Our master closet is also pretty nice, although I can see a few logistical problems coming our way when I actually get to move all of my stuff in.
But I was not crazy about the paint color (which matched the crazy accent wall in the living room when we moved in.)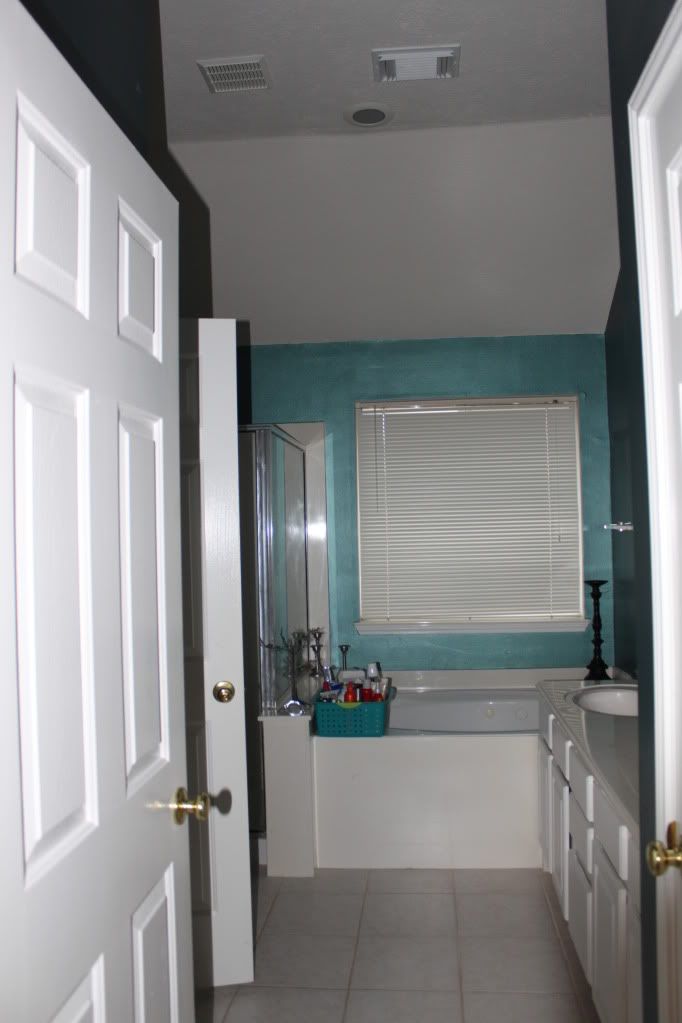 "Before" view from the bedroom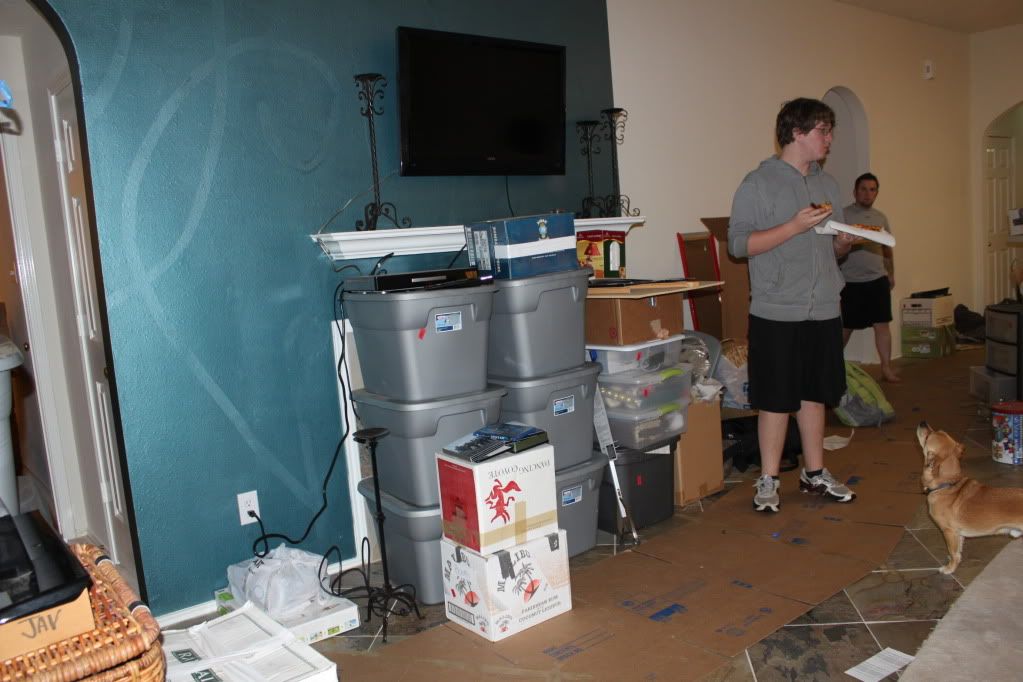 Matching paint!
I knew this was going to be a big project, and honestly I wasn't sure I wanted to tackle it while I was there this summer. Ultimately, though, Will and I decided we wanted to get our "suite" finished sooner rather than later. We realized that this will probably be the only chance we have to spend selfishly on our bedroom and bathroom because the next time we move (or want to re-decorate) we will most likely have children.
The reason this was such a big project is because (A) the whole bathroom has really high ceilings (I think they're 12 ft, but they could be 10 ft), which means I spend a lot of time on the top of our ladder, (B) because the previous color was so dark I would have to prime it, and (C) there were a lot of really tiny nooks and "walls" that were really tedious to paint.
I decided to go with "Salt Glaze" by Martha Stewart in semi-gloss.
But first, we (and by we I really mean "I" with a little help from Will occasionally :) ) primed.
#shortpeopleproblems
Le sigh.
Anyway, here are the finished pictures
Pre-frosted
As you can see, we frosted this window. I hated the blinds but we needed the privacy and I wanted the natural light. I originally bought some film from the Home Depot to cover the window, but, err, that didn't work out so well. The piece of film would have worked well, but it was too big (even for two people) and the window was just too big to get all of the air bubbles out. Luckily part of the film wasn't even sticky so we were able to return it gilt-free and we got some of the frosted glass spray paint.
I taped all around the window and hung some paper around the wall so the spray paint didn't get on anything else and we were really happy with the way it turned out. It took several layers and for some weird reason there are still a few spots that aren't "even" but it doesn't bother us enough to try and figure out how to fix it (I tried adding several layers to just those spots but no dice).
Post-frosted
I am in LOVE with how light and airy it feels in there now.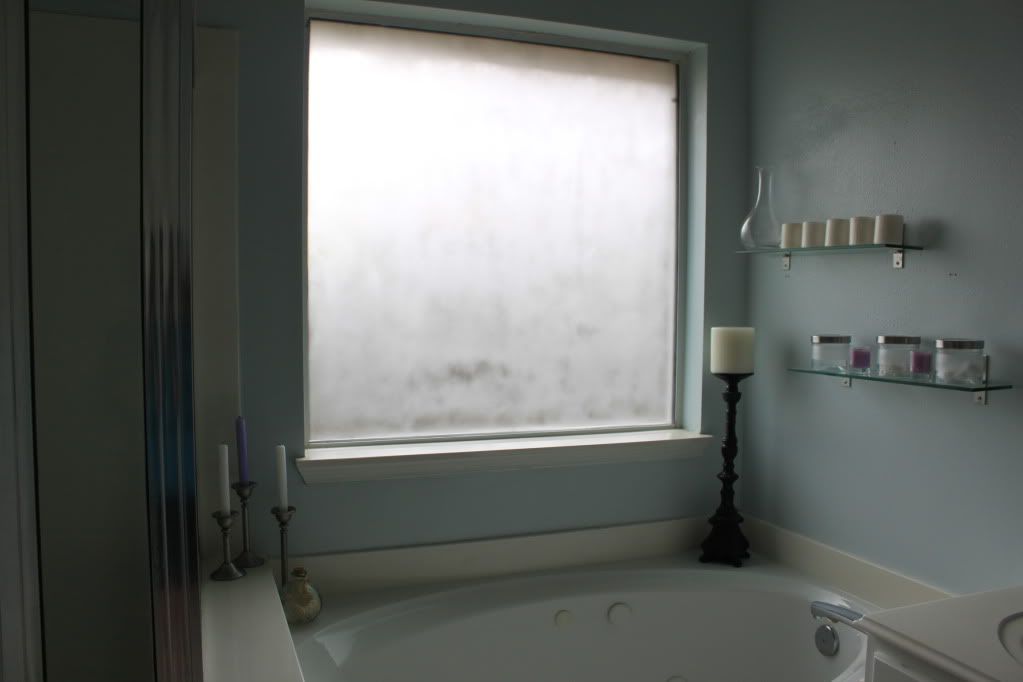 See the few spots along the bottom of the window?
In this picture you can see the gaping hold in the wall where I took out the medicine cabinet. I am so happy it's gone, but it's looking a little rough unfinished. We were going to replace the sheet rock to make it a solid wall, but I think we're going to finish it out to make a little nook for a vase or something.
The other big thing I did was take out the old towel rack above the tub (I knew we'd never use it) and replace it with some glass shelves from Ikea. Currently they are holding candles and my jars with cotton balls, q-tips, and my flossers.
I hung up some photo frames the day before I left. They're okay for now, but I don't think I'll leave them forever.
Overall, I am so happy with how this room turned out. I wanted it to feel like our own little spa and I definitely feel like we accomplished that. There are still many things I'd like to do in here (replace/paint the door handles, frame out the mirror and add some shelves to the center of the mirror, get some new light fixtures, new artwork, etc.)
Unfortunately, the trim is going to need a lot of touch-ups. When the previous owners painted the teal color, they got a lot of paint on the trim. When the whole room was painted that color it wasn't too noticeable, but now it is.
I'm linking to Sarah at
Thrifty Decor Chick
:
Have you made any tedious but worth-it changes in your house lately?